Coming to the Capital Fringe Festival in July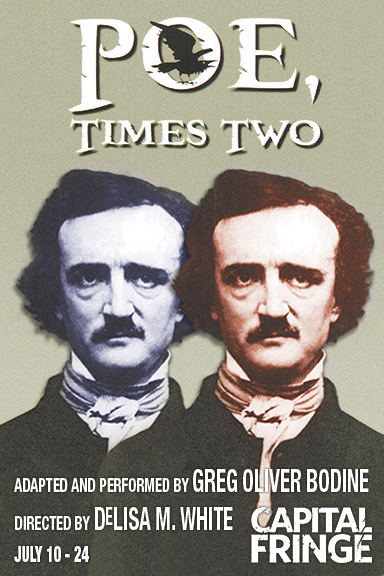 at Caos on F
923 F Street NW, Washington, D.C. 20004

July 10 @ 3:00
July 13 @ 8:15

[Pre-show happy hour 5-7 pm at
EAT THE RICH
1839 7th St., N.W.
Washington, D.C. 20001
info@etrbar.com)
http://www.etrbar.com]

July 17 @ 4:30
July 20 @ 6:15
July 21 @ 8:30
July 24 @ 4:45



What's better than an Edgar Allan Poe tale? Two Poe tales – The Cask of Amontillado and The Black Cat.

POE, TIMES TWO – written by acclaimed actor/playwright Greg Oliver Bodine and directed by New York Innovative Theatre award-winning director DeLisa M. White – makes its Washington, D.C. debut at this year's Capital Fringe Festival.

The Cask of Amontillado and The Black Cat are two of Poe's most exquisite and pungent tales of revenge.

Written and performed by Greg Oliver Bodine; Directed by DeLisa M. White; Costume Design by Jeanette Aultz; Lighting Design by Richard Kent Green; Sound Design by Charles Jeffreys; Production Stage Manager: Laura Schlachtmeyer; Publicity / Press: Richard Byrne; Co-produced by Catherine Aselford.

Check out our Capital Fringe POE, TIMES TWO teaser on youtube:
https://www.youtube.com/watch?v=hC4jvaVVG9Y&feature=youtu.be


This production is presented as part of the 2016 Capital Fringe Festival,
a program of the Washington, DC non-profit Capital Fringe.

FOR TICKETS, please visit http://www.capitalfringe.org or call 866-811-4111.
All tickets go on sale June 20!